An update without the impact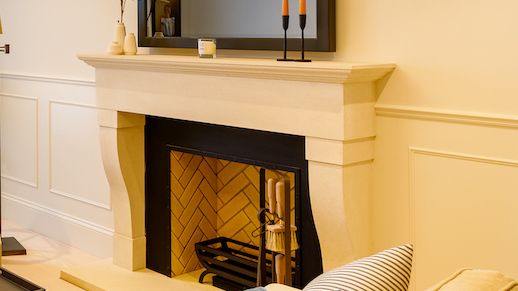 A Virginia Water client contacted Lizzie Stere because they felt like their much-loved home was lacking in style and pizazz. They have two children crisscrossing the teenage years and felt that it was an ideal time to refresh and modernise the rooms for their growing family.
The challenge is that they want to re-use a lot of what they have already; this project must have as little impact on the environment as possible.
The family has identified the following issues:
Their cosy wood burner is perfect for keeping their living room warm, but it is the wrong colour to fit in with the decor, and the mantelpiece and hearth and tiles behind it are dated and a bit dreary. We are going to use inspiration from our previous projects, such as this beautiful fireplace with herringbone tiles (featured picture) as a starting point to come up with a cohesive scheme.
The family loves entertaining and would like to create a wine wall as a focal point for the dining area. We are currently reviewing different styles and look forward to presenting them with some functional and beautiful solutions.
The desk area opens into the hallway, but it is not connected to the house and feels cluttered and uninspiring. We will look at how to update this and introduce plants, colour and clever storage to the space.
The family is interested in investing in some new artwork to make a statement and create a strong sense of identity. They are excited to see if they can support local artists with their project.
Their 10-year old sofa, which is comfy and has big sentimental value, needs re-upholstering. We are currently on the lookout for durable, super stylish and eco-friendly fabrics and coordinating soft furnishings.
The family would like to introduce a media wall in their living room to contain their AV equipment and display some of their favourite accessories and books. We have great contacts with local joinery companies that can engineer and fit bespoke units and shelving and are sketching up some options.
"Not all projects are about gutting the house and starting again," said Lizzie Stere. "As an interior designer, I need to listen to what my clients want. It is not always necessarily about the budget; not everyone wants to hear that I know where to shop well! We are really excited to be injecting some colour, glamour and style into their home with a strong brief to be mindful of the impact this may have on the environment. It is precisely the sort of challenge that I relish and I hope that I can make the family fall totally in love with their house again."