Create outdoor rooms for seamless entertaining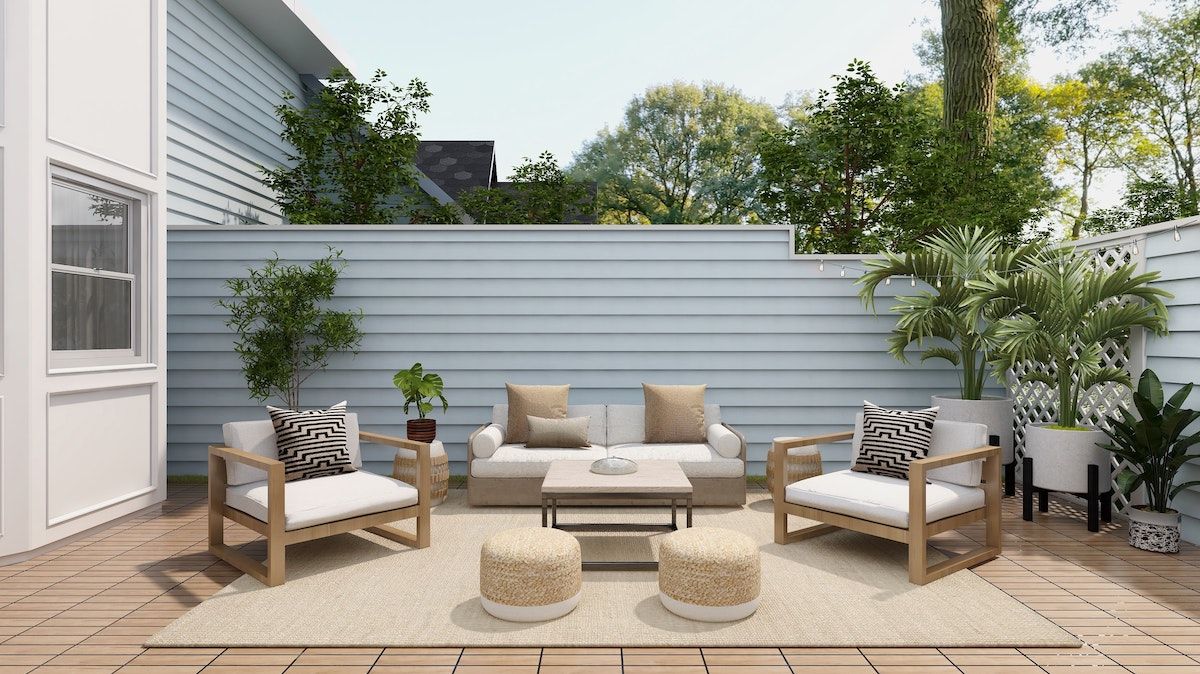 Entertaining outside should be as comfortable and stylish as inside, whatever weather the UK gives us. There are plenty of ways to create beautiful spaces for any external area, whether you have a tiny balcony, a roof terrace, a courtyard garden or an expansive lawn. By choosing the right furniture, accessories and lighting you could potentially use it all year round, and may even add value to your home.
Think of your outside space as an additional reception room; to be used for drinking, chatting, dining, lounging or even dancing. There are three main elements to keep in mind; comfort, beauty and atmosphere which can be created with shelter, luxurious furniture, lighting and decorations. Inspire family and friends to join you in enjoying the area and never want to leave…here's how:
A Covered Space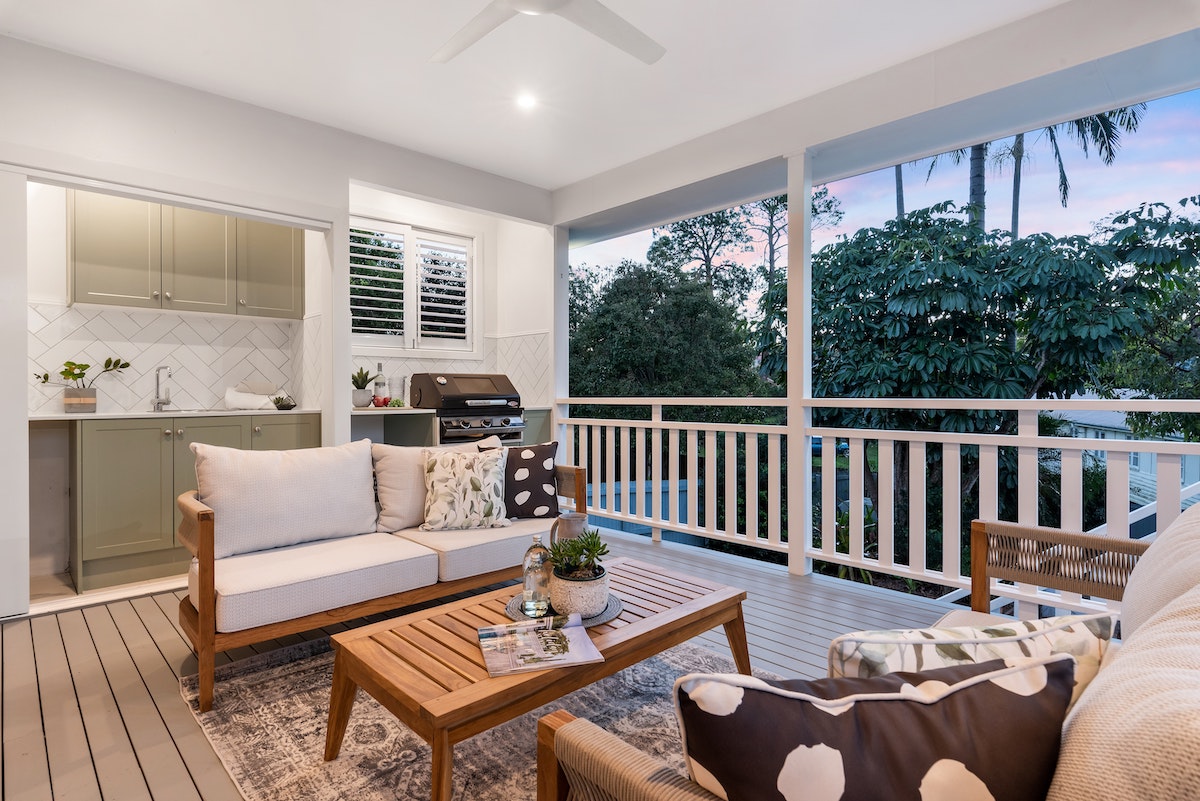 If you have a garden room or summer house you can use lighting and heating to make it feel comfortable whatever the weather, and it can be repurposed during the winter months if you need to store other garden items to protect them from the harshest of weathers. Think of its potential as a candle-lit dining room, a summer lounge, a creative studio or a kids' den. The opportunities are endless! If you don't have space or budget for a solid structure, pagodas, pods and pergolas come in a variety of finishes and prices, and are all excellent for creating a comfy seating area to relax in. There are some fabulous (and high-tech) awnings which are installed on outside walls and can define a space and protect its inhabitants from hot or inclement weather. Sails, bamboo, wicker fencing and planting can all help to enclose a more casual space and protect from wind and light rain.
Furniture and Lighting
By choosing furnishings with weatherproof materials, a space can be made to feel more permanent, and avoids having to gather up cushions and furniture every time there is a short rain shower. Sofas and chairs now come in robust waterproof and UV resistant fabrics that withstand all weathers and will not deteriorate easily with the elements. Vincent Sheppard and Coach House have some stylish choices for outdoor seating in a range of designs.
Who'd have thought that we would one day include a rug in our outdoor space? But...we are blessed with a fabulous choice of waterproof outdoor rugs in bright and stylish designs to help us decorate and zone off our garden spaces and create that 'never want to leave' feeling. If you are lucky enough to have a large garden, think of defining separate areas for eating, playing, sport and for casual seating.
Lighting can be chosen to allow for task lighting in dark areas and ambient lighting in relaxing areas to create the right atmosphere. Standard and table lamps can be placed strategically, with pendant lamps above which can also double as heaters. During the evenings you can wrap fairy lights around any structure to make the space cosy and inviting and these can be battery-powered or solar so no need for wiring or dangerous extension leads! If you are planning a refubishmment, think about what fixed lights will be useful for keeping on, alongside security and task lighting. Pooky and Vaughan Designs both have some stylish lighting options to choose from.

Embellishments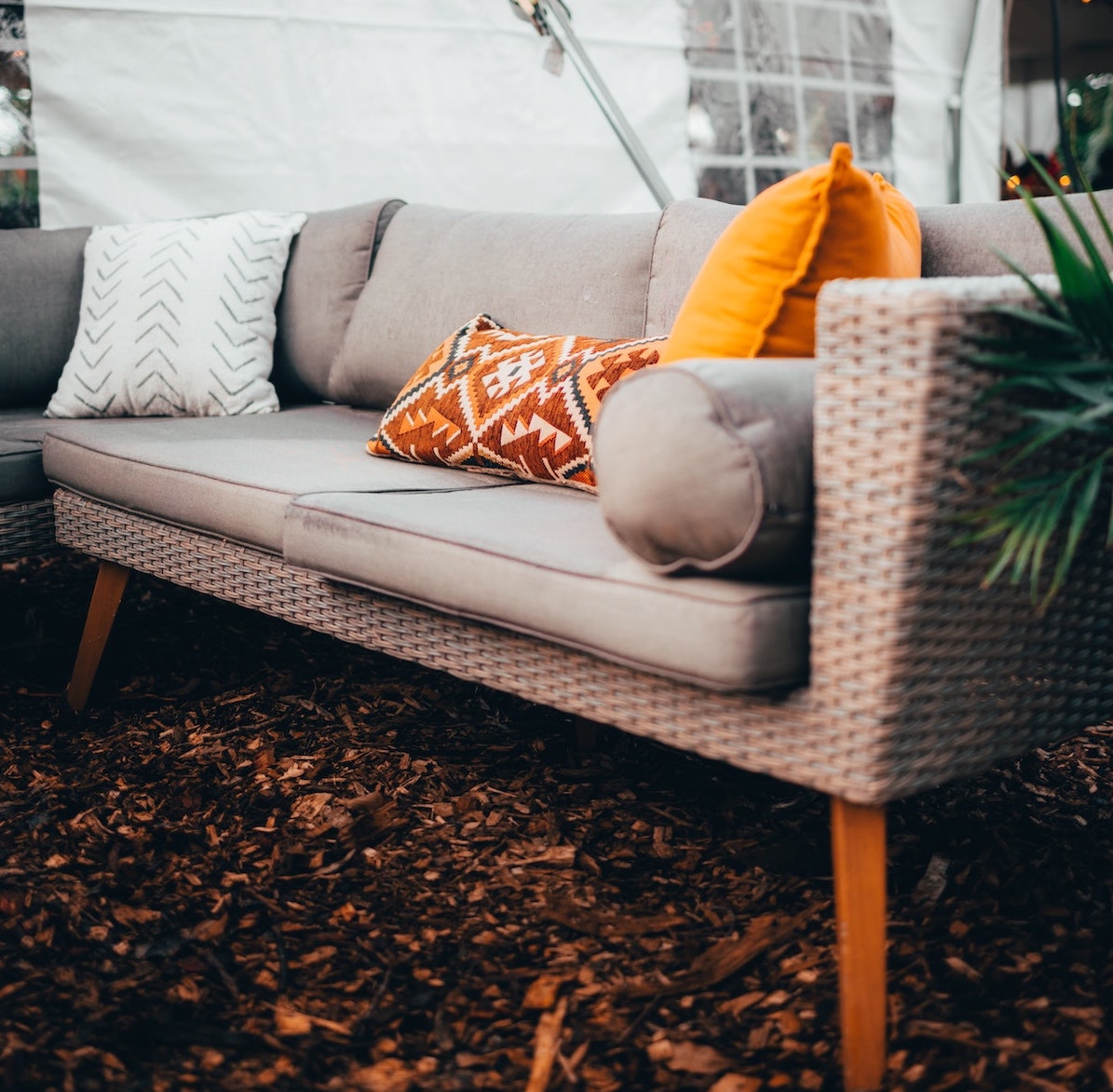 An outside area can be enhanced with visual interest by introducing colour and height. There are lots of external paint finishes for wooden structures and fencing to avoid having to look at boring, bare or varnished wood. Try Edward Bullmer for a selection of eggshell and gloss external paints for woodwork and metal. They also have a great range of colours for lime plaster.
Choose different textures and patterns on sofas and cushions and create visual interest with textured blankets and decorative tableware. Warwick's Beachclub fabric range has some zesty prints for livening up a space. You can create a couple of schemes by buying wisely and keeping up with the latest trends; from leafy, fruity and animal designs on tableware, or keep it simple Scandi style with neutrals or blues or go full-on with retro and geometric prints. Collect a pick and mix of options to surprise your guests and family.
Unsightly walls and fencing can be covered with fake foliage which is widely available in most garden centres, or you can take a more patient option and grow fragrant and pretty climbers. If you don't have the patience, create an instant hedge using chunky planters, large potted plants or place potted shrubs in rows which can also help to divide areas up. Invest in comfy loungers on a patio or in the middle of the lawn for a feeling of pool-side luxury and make sure you provide a low table to rest a book and a drink. Lounge cushions and parasols do not have to be plain and can brighten up a more casual seating area. Think about floor finishes; choose a matching floor tile if your seating area is directly outside, or a bright, contrasting tile for an area under a gazebo. Decking can be sourced in a rainbow of colours, or choose from lots of gravel or slate finishes from ultra-modern to more traditional.
There are plenty of outdoor accessories which are good enough to use inside; and can help to make guests feel special and treasured. Arrange vases, picture frames, coasters and plant pots together with your furniture to make your space feel more permanent and sophisticated. Finish off your tables with pretty serving bowls, water jugs and glasses. The days of budget plastic tableware are well and truly over!
Look for storage solutions that can double as furniture, or sit tidily in a corner to house ugly garden tools and equipment, as well as for outdoor cushions and accessories when not in use.
Keeping warm
To extend your time spent outside, there are a variety of options to heat your outdoor space. Firstly have a selection of luxurious blankets available. These don't have to cost the earth but can be colourful and washable in a variety of designs. Sheepskin throws can be good insulators and give a cosy scandi-look, and they come in a faux finish too. Traditional gas patio heaters can be used to create a toasty outside area on chillier days and evenings. Electric heaters that double as pendant lights can be used above a dining table or sofa to focus heat in a small area. Fire pits and chimineas warm up a sociable seating area and act as a focal point to inspire storytelling and singing, as well as being useful for cooking (or just toasting marshmallows!). Don't forget pizza ovens and more elaborate barbecues can provide warmth while they cook your meals.
Atmosphere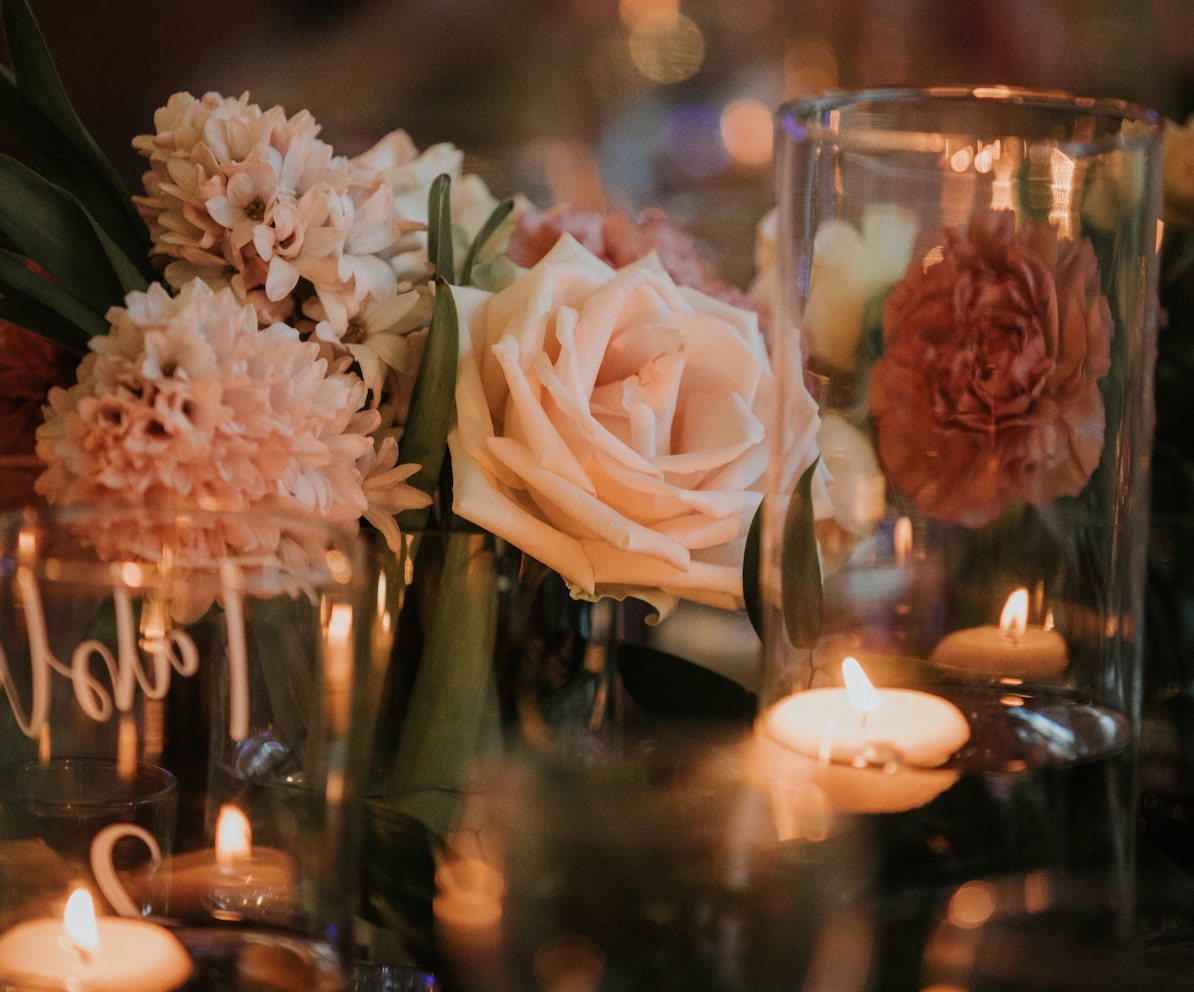 Music is an important aspect of creating a charming or upbeat atmosphere. Phone apps can be connected to either movable or fixed external speakers and managed from anywhere in the home. Candles can create a warm and inviting atmosphere, as well as being a repellent for some insects, especially if using citronella. There are so many options for candle holders and tea lights in a wide range of prices. Tablecloths and napkins in a range of fabrics and designs can provide a backdrop to your scheme, as well as creating a softer look.
Whilst all of these elements work together to make a space inviting, ultimately it's the company that counts! So revel in your efforts to make your outdoor room look fabulous, open a bottle of something chilled and enjoy it with friends - whether the sun is shining down on you, or setting over the horizon!